NEW WAY OF YOGA.
With the Aerial Yoga Hammock, you can improve your health, well-being and instantly soothe back pain. The ultimate yoga tool for a healthier and better life!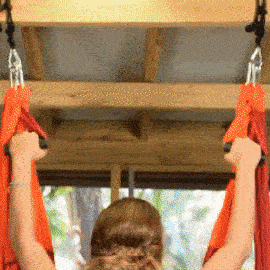 WHAT ARE THE BENEFITS:
🧘 REDUCES MUSCLE TENSION: Removes pressure off your back by allowing gravity to help blood flow to relieve back pain. If you have a stiff back and tension in your lower back & legs, you need this in your life!

🧘 REDUCES STRESS: Allows you to deeply stretch your spine, hips, and back to ease stiff muscles—helping you to be stronger and more flexible!

🧘 EASY TO CARRY & ASSEMBLE: Want to do aerial yoga at the park? In the back yard? Or at home? Easily fold it up into a small pouch so you can assemble it with ease, anywhere you want!

🧘 STRONG & STURDY: Holds your weight well with heavy-duty straps and stitching—you'll never have to worry about your weight!
🧘 CLEARS YOUR MIND: Aerial yoga has been proven to calm your nerves, help you focus, and make you feel happier, overall.
"This thing is amazing. It's easy to mount with the proper equipment. Very versatile for people of differing abilities and flexibility. All around A+" ⭐⭐⭐⭐⭐ - Fiona, CA
FAQS
Q: "Do I Need Some Special Training to Use This?"
Getting started is so easy. We've put people of all ages, sizes, and backgrounds into the Yoga Hammock, and within 2 minutes, they're totally hooked. Stiff people, old people, sore people — bring it on!
Q: "How can I install my hammock"?
For yoga, daisy chains can be wrapped around a weight-tested beam, an aerial rig, or professionally installed ceiling bolts.
Here are some installation options:
Hang in a door frame with a door mount bar

Do you have a back yard? Get a yoga swing stand  

Swing it over an exposed beam 

Hang from a swing/playground (easiest)

Tie it to a tree branch 

Hang from a piece of gym equipment (like a chin-up bar)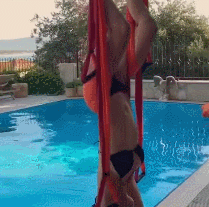 HOW TO INSTALL:
Note: Consult a professional in installing the steel plate for maximum safety.
For outdoor:

You can tie the daisy chains/extend belts to a beam or a tree. Then, clip the carabiners with one of the loops. You can now hang your hammock!
For indoor ceiling:
Step #1: Drill within 5-6cm deep the steel hanging plate to your ceiling or wall using a No. 12 drill
Step #2: Attach Steel Plate to the ceiling or wall

Step #3: Hang-up Hammock 

GET RID OF YOUR BACK PAIN NOW WHILE SUPPLIES LAST!
CLICK ADD-TO-CART NOW!
Package Includes:
1 x Hammock with Foam Handle
4 x Carabiners
2 x Extend Belt/Daisy Chain 
🔒 OUR GUARANTEE
We offer a 30-day guarantee on our products and our staff will be more than happy to assist you with any issues you may have. Our dedicated staff offer customer support 24 Hours a Day, 7 Days a week. 100% Customer Satisfaction Guaranteed!