It Makes Drilling Holes in Walls a Clear Venture
And Greatly Reduces The Dust When Drilling!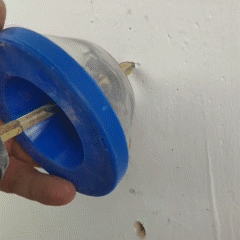 With our drill cover system, you can contain the dust and debris for a clean work space. The drill attachment is made of durable plastic. It features a hollow chamber that collects dust and debris as you drill each hole.
You'll love how convenient and easy this attachment makes it to clean up after a project. Because of this tool's versatility and usefulness, it makes a great addition to any toolbox.