Enchant Your Garden
It's time to transform your garden into a magical wonderland! The Enchanted Watering Can's charming glow will turn any ordinary outdoor space into a magical sanctuary.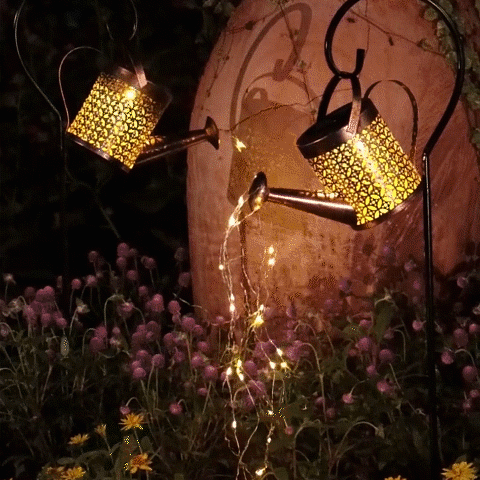 The Watering Can Light looks like a string of shining stars poured out of a watering can, casting a beautiful pattern on the ground, while the strings of light beads twinkle, creating a romantic atmosphere and making your garden unique.
This garden art lantern has a built-in solar rechargeable lithium battery, no need to recharge. The lantern automatically turns on in the dark and turns off during the day. Charge for 6-8 hours in direct sunlight for 8-12 hours, please make sure the solar panel is facing the sun.
The string of lights has gone through the watering can hole, you just need to assemble the handle of the kettle and the shepherd hook, then insert the shepherd hook into the soil of the lawn and hang the lantern. The watering can lamp art lamp is right in front of your eyes.
Our lighted watering cans are perfect for home decor: watering plants, vines, potted plants, wedding parties, dining tables, porches, paths, walkways, balconies, walls, Christmas, Thanksgiving, birthdays, indoor or anywhere outdoor use lighting decorations Taste. It is also a great gift for family or friends!
CARE INSTRUCTION: